Body of Artwork and Services Available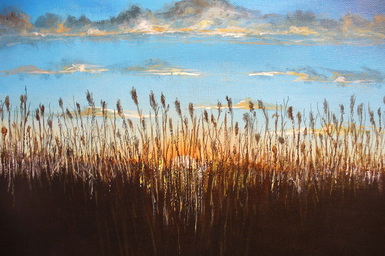 Mr. Arsenault is a full time professional artist who produces beautiful paintings of a wide variety of topics.

Generally there are more than 100 paintings available and on display at his gallery at any given time ready for your viewing and selection.

The body of work is grouped by water, sea and bayscapes, landscapes, Pine Barrens lakes and forest scenes and still life.

While this web site provides you with an overview of the available work, please note that all work shown here may not be available at the time of your interest as it might be either sold, placed on reserve, out at an art show for judging, or it may be hanging in another gallery or venue for display purposes.

Other Work and Services Available:

Custom Personalized Paintings
Some customers want a painting created just for them from photos they provide. It may be of their home, auto, We can serve you with custom paintings and will sit and discuss your individual wants and needs. In some cases we will direct that the work be performed by a specialist in the style, field or type of artwork you desire. Mr. Arsenault will act a your contact agent and be responsible for the finished delivered product.

Portraits
Whether you want a portrait of your loved one, friend or pet, we can provide you with high quality professional artwork that will satisfy. Some custom portrait work is provided by other artist who are contracted to Mr. Arsenault. We will meet with you to discuss details and delivery.

Framing
While some painting come pre-framed, you can buy any painting without the frame as we have found that some buyers have a special frame in mind that will match their decor or that of their loved one, friend or business venue. To that extent Mr. Arsenault has access to some of the best framers in New Jersey who, like Mr. Arsenault provide high quality services at affordable costs and a history of delivering finished product on time and on budget.

We can also frame any painting that you may now have. We would be happy to provide you with a quote.
---