Photo of The Week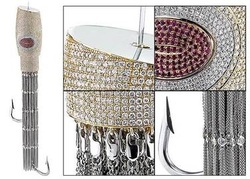 A real lure encrusted with diamonds and rubies. Valued at over $1,000,000. You can bet that you won't find one of these babies in my tackle box!

The imaginatively named Million-Dollar Lure has been capturing the hearts and minds of Americans since 2006, when it was first unveiled. While the publicity certainly helped MacDaddy's, it also helped some charitable organizations; they received five percent of proceeds from the Million-Dollar Lure.

The Million-Dollar Lure is made of both gold and platinum. It's also adorned with over four thousand diamonds and rubies, weighing in at 100 carats total. Furthermore, lest you think the Million-Dollar Lure will never see any action, it was recently used at the 26th Annual Brisbee's Black and Blue tournament in Baja California, the largest marlin-fishing tournament in the world.
---